Main content starts here, tab to start navigating
Hops has the food!
We pride ourselves on creating mouth watering Vermont pub food, with as many local ingredients as possible. Chef Abbie Sweeney leads an awesome team here at Hops to provide an inspiring Vermont pub cuisine for everyone to enjoy!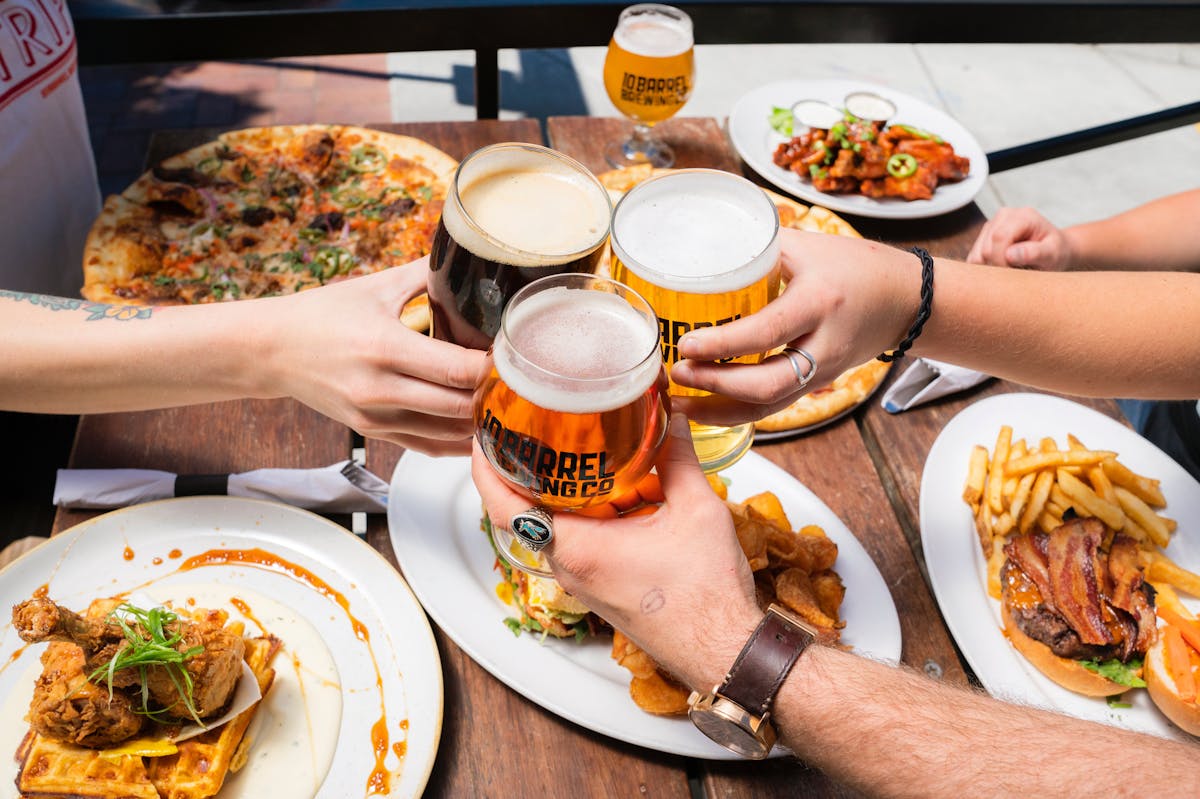 At this time we have 5 Draft lines available, an always evolving canned beer selection, along with ciders and seltzers!
Our Liquor choices include: Jameson, Jack Daniels, Makers Mark, Beefeater Gin, Hornitos Silver, Titos Vodka and Captain Morgan spiced rum
Draft Beer
Constantly rotating, our Draft beer selection is one of the best in Killington. All prices include all applicable VT taxes.
LIGHTER POURS
Including traditional lagers and pilsners, along with some lighter tasting selections
PBR

The OG! 4.8% - 16oz - Milwaukee, WI

$4
DARKER POURS
Darker color, malt forward and full bodied
Zero Gravity - Extra Stout

Irish style stout with hints of cocoa, coffee and Barley - 5.9% - 12oz - Burlington, VT

$8

Switchback - Brown Ale

Vermont's household brown ale - 5% - 16oz - Burlington, VT

$7
CIDERS
Downeast Cider - Blackberry

Blackberry flushed unfiltered cider - 5% - 12oz - Boston, MA

$7
Cans and Bottles
Always evolving, our canned beer selection varies by week, but we always have something for everyone. Most of these selections are available in 4 packs for purchase to take with you.
Lighter Cans
Some of the lighter offerings
Miller High Life Ponies

7oz nuggets for your drinking pleasure

1 pony $2

6 Pony Bucket $10

Bud Light

You know the rest - 4.2% - 16oz - St. Louis, MO

$5

Zero Gravity - McLighty's

90 calories, crisp and refreshing craft light lager! - 3.2% - 12oz - Burlington, VT

$5
Darker Cans
The dark side of beer
Guinness - Nitro Stout

As classic as stouts get, from St. James Gate! - 4.2% - 16oz - Dublin, IR

$7
IPA Cans
Green Empire / Upper Pass Collab - Pink Cloud

Unbelievably unique IIPA aged in pink Tequila barrels - 8% - 16oz - VT

$10

The Alchemist - Focal Banger

Heady's little brother, sharper hop flavor - 7% - 16oz - Stowe, VT

$9
Sour Cans
Usually fruited and fermented, for those Warhead lovers!
Cider / Kombucha / Seltzer Cans
A mix of beverages for everyone looking for something a tad different!
Whiteclaw - Black Cherry

Black Cherry hard seltzer - 5% - 12oz - Chicago, IL

$6

Whiteclaw - Mango

Mango hard seltzer - 5% - 12oz - Chicago, IL

$6
Wines
Red or White, glass or bottle. Something for the wine drinkers out there!
Kung Fu Girl Reisling

Charles Smith Winery - Washington - 12%

Glass $10

Bottle $34

Luna Nuda Pino Grigio - 2019

Italy - 12.5%

Glass $10

Bottle $34

Oyster Bay Sauvignon Blanc - 2020

Marlborough, NZ - 12.5%

Glass $10

Bottle $34

Kendall Jackson Chardonnay

California - 13.5%

Glass $10

Bottle $34

J Lohr Seven Oaks Cabernet - 2018

Coastal California - 13.5%

Glass $10

Bottle $34

Angeline Cabernet - 2020

California - 13.9%

Glass $10

Bottle $34

Meomi Pinot Noir

California - 13.7%

Glass $10

Bottle $34
Soups
Soup of the day (Bowl)

Creamy roasted Tomato

$10

Chicken PHO'

Chicken broth, braised chicken, rice noodles, fresh herbs, lime, jalapeno

$19

dairy free, gluten free

Mushroom PHO'

Mushroom broth, mixed charred mushrooms, rice noodles, fresh herbs, lime, jalapeno

$20

dairy free, gluten free, vegetarian, vegan
Appetizers
House chips and French Onion dip

Fried chips, house dip with Cabot sour cream and Green Mountain Creamery cream cheese mixed with caramelized onions

$9

gluten free, vegetarian

Jumbo pretzel with pimento cheese

Warmed giant pretzel with Cabot cheddar pimento cheese

$13

vegetarian

Sloppy Tatas

Deep fried tater tots, sloppy joe meat sauce, Maplebrook cheddar curds, lime crema, scallion

$14

Tuna Tostada

(1) 6" Fried tortilla, diced raw sushi grade Yellowfin Tuna, avocado puree, radish, cilantro, jalapeno, lime

$16

dairy free, gluten free

Duck Bao

(2) Sliced pan seared Duck breast in Bao buns, hoisin sauce, cucumber, fresh vegetables, herbs

$14

dairy free

Street tacos

(3) Seared pork belly, salsa verde, shaved radish, Cotjia cheese, cilantro

$14

gluten free

Korean fried chicken wings

(6) Brined crispy wings, Sambal honey sauce, cilantro aioli, peanuts, scallion, mint, lime

$17

spicy, dairy free, gluten free

HOPS fried chicken wings

(8) Brined wings, crispy fried with your choice of sauce and Blue cheese or Ranch dressing Maple Sriracha / Sambal Honey / General Tso / Buffalo

$17

gluten free
**Gluten free items that are fried are not Celiac friendly**
Salads
Add a protein to any salad: Grilled Steak (13) Grilled Shrimp (10) Grilled chicken thigh (8)
House Garden

Spring mix, carrots, cucumber, choice of dressing RANCH / BLUE CHEESE / CHAMPAGNE VINAIGRETTE / MAPLE BALSAMIC / SESAME SOY VINAIGRETTE

$13

dairy free, gluten free, vegetarian

Grilled Tuna and veggies

(8oz) Grilled Sushi grade Yellowfin Tuna, chopped Romaine, shaved red cabbage, carrots, scallion, toasted sesame seeds and cashews, Soy and Sesame vinaigrette

$22

dairy free

Winter Salad

Spring mix, shaved root vegetables, apples, herbs, fresh cream blue cheese, champagne vinaigrette

$17

gluten free, vegetarian
Flatbreads
Mixed Mushroom

Chef mixed mushrooms, caramelized onion puree, fresh Maplebrook mozzarella, chives

$17

vegetarian

Mad Tom

Brie, Cabot cheddar, apples, bacon, Vermont maple syrup drizzle

$16
Burgers / Sandwiches
All served with house chips. Substitute: Tater tots (2) Sweet potato steak fries (4) House side salad (6)
Falafel Wrap

Griddled Falafel, shaved romaine, cucumber, tzatziki, pickled red onion

$14

vegetarian

Shrimp Lettuce Cups

Marinated grilled shrimp, romaine lettuce, herbs, pickled red onions, shaved cabbage, chili garlic rice

$16

dairy free

General Tso's Fried Chicken

Fresh pickled cucumber, scallion garlic mayo, sesame seeds, toasted bun

$17

Grilled Flank Steak Sandwich

Marinated flank steak, romesco sauce, grilled romaine, mixed mushrooms, toasted baguette

$21

dairy free

When in Vermont

8oz patty, Cabot cheddar cheese, LTOP, toasted brioche bun

$15

Add fried egg $2

Add Bacon $3

Add Pork Belly $4

Double Patty Melt

(2) 4oz seared patties, American cheese, grilled Texas toast, dijonaise, red onion, pickles

$17

Pimento Cheese Burger

8oz patty, house pimento cheese, giardiniera, toasted brioche bun

$17

Vermont Grilled Cheese

Melted Brie and Cabbot cheddar, apples, caramelized onions, toasted sourdough

$15

vegetarian

Add Bacon $3

Sloppy Joe

House sloppy joe beef, cheddar, shaved romaine, pickles, Texas toast open faced

$16
All kids meals served with house chips. Substitute: Tater tots ($2) Sweet potato waffle fries ($4) Side house salad ($6)
Kids Burger

4oz Patty, Cabot cheddar

$12

Kids Grilled Cheese

Cabot cheddar, toasted sourdough

$10

Kids Red Sauce Flatbread

House red sauce, fresh Mozzarella

$12